China and US talks, ON. Trump declares a national emergency as equities break resistance.
As China came back to markets this week traders and investors alike anticipated trade talk updates and volatility. That is exactly what we got. We got news of progressing trade talks between the US and China. So much so that next week we anticipate a meeting between the nations in Washington.
In US news, Trump signed a deal for his proposed border funding agreement to avoid a prolonged shutdown along with declaring a national emergency to get the $8 billion (from numerous government resources) he wants for his wall. The deal he had just agreed to was for an unspecified amount but it is highly unlikely the deal includes the full $8 billion.
Equity markets this week rose on further weak economic data, money flowed into risk on assets from bonds as T-yields rose at the start of the week. In response to declining economic data, economists downgraded the GDP forecasts, while global economic data continued to suffer, prompting the greenback to surge.
This past week the greenback tested the 97 level while the S&P 500 popped above the 200-day moving average firming the bullish technicals. Crude drifted higher into the close of the week, the $55 level was tested time and time again. The spike in oil was thanks to jawboning out of Russia and Saudi Arabia, could we see further "production cuts" to ramp WTI back up to the $60 mark?
Coca-Cola took the biggest hit in a decade after organic revenue dropped, which was due to Forex struggles. Earnings missed by over 50% at an expected $0.43 a share to a delivered $0.20 per share. Dropping from the $50 mark down into the low $45.20 area. Nvidia pressed higher on a big earnings beat of over 80%.
Here is a look of last week's stock market on a daily basis (red vertical lines split days).
Stock Market and Sector Overview
Here is a break down of the weekly performance in various stock market sectors (top chart):
Energy stocks up 5.67%
Technology up 1.81%
Financials down 2.62%
Retail up 3.30%
Utilities down 0.21%
Overview of key markets last week (bottom chart):
Crude oil up 5.73%
S&P500 up 2.61%
Silver was down 0.35%
Gold up 0.52%
US dollar up 0.28%
US equity riot-Trade talks and Trump's border deal on.

What's going on with these markets? Friday pre-market open we had a crazy rally on weak import/export data just a day after we had weak retail data. Markets were slumping leading up to the report overnight trading below key support and just like that, one announcement and we hit new 2019 highs. Now just what influenced this drastic pop? It was trade talk optimism yet again…
It seems like anything, yet again is helping markets press higher. Earnings forecasts are dropping, but the market is rising, the Xi and Trump effect is a strong market mover.
The continued trade talks will progress in the coming week with March 1st as the short term deadline. The hopeful long helped ES futures pressed 20 points overnight with an added boost into the 2770 level just before market open.
For the time being there is more jawboning than disclosed statements out of both ends of the trade deal. Xi said "Next week, both sides are going to meet in Washington. I hope you keep up the good work, and push for a mutually-benefiting and win-win agreement." Off this markets rejoiced.
The optimism spread throughout the world as the Stoxx 600 out of Europe erased its losses on the news, while European economic data remained weak.
Added to this the import and export prices out of the US were weak while China's export data came out very deflationary, which brings us into another point out of China, and they seeming objective to inflate markets. It seems as if China is looking to flood credit into the global economy to press markets higher. Keep an eye out on the following chart.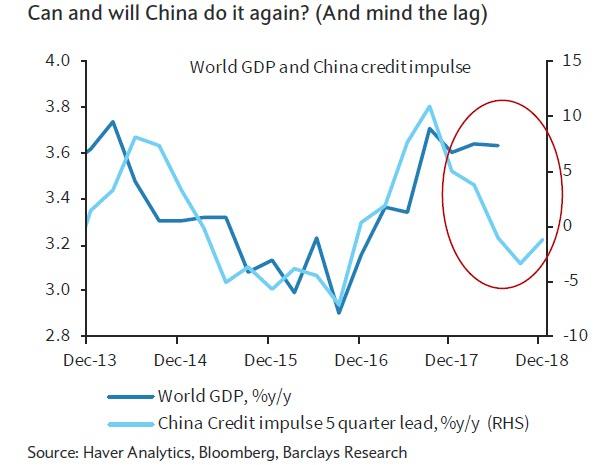 This week we anticipate more news out of the trade deal, which seems to be the center of attention of the world. With the trade talks done, other global economic data will then impact the markets as they should but have not been.
Weekly Economic Data
A slower economic week coming up with the holiday in the US on Monday, we have a shortened trading week. Throughout the week there are only two high impact news events coming out. One being a very important monthly FOMC event out of the US and the other a core durable goods number.

Monday, Monetary policy meeting minutes out of Australia which will bring movement to the Aussie dollar.

Tuesday, wage price out of Australia and average earnings out of the UK.

Wednesday, The important monthly FOMC meeting minutes out of the US and employment numbers out of Australia that'll stir up the Aussie dollar yet again.

Thursday, German flash service PMI, core durables out of the US, Poloz speaks out of Canada and Lowe hits the wire out of Australia.

Friday, Core retail sales out of Canada and Draghi speaks out of Europe.
If you prefer to trade more passively, checkout our newsletter, trade ideas and live analysis in the Swing Trader package here >
---
The information contained in this post is solely for educational purposes, and does not constitute investment advice. The risk of trading in securities markets can be substantial. You should carefully consider if engaging in such activity is suitable to your own financial situation. TRADEPRO Academy is not responsible for any liabilities arising as a result of your market involvement or individual trade activities.