The Fed goes dovish, but is this move higher a massive short squeeze?
Markets opened weak on Monday as economic events held as catalysts for the downside. The downside was upheld by weak earnings on Monday.
Some of the catalysts include slowing industrial growth in China, rising material costs and a more conservative economic forecast. Sanctions announced on Venezuela by the US, along with a shortage of supply in the US helped oil prices sore.
The downside was quickly suffocated as earnings began to pick up on the upside on Tuesday, led by a strong Dow off great Boeing earnings. The UK Parliament voted on non-binding Brexit amendments this past Tuesday. This increased hopes for further negotiations with the EU in February.
The biggest news of the week was on Wednesday, this was the transition moment for the bulls as the FOMC meeting took center stage. The meeting was on the dovish side. Powell did not hint at further rate hikes in the coming year. He also addressed the balance sheet and mentioned that the Fed was going to look to decrease the balance sheet in light of future economic and financial developments. This was a massive catalyst for equities to press the upside. S&P 500 cracked the 2700 level finally as January held as the strong start to a year in over three decades. Many market participants were convinced that this was the beginning of the end of the "Powell Put" which was activated back in the 2350-80 area.
In other markets, gold pressed higher, into the $1330 level on USD weakness and bond markets pressed higher. Higher bonds pressed yields lower and put pressure on global interest rates.
China and the US met in Washington this week, and the outcome was good, with a potential of another meeting between Trump and Xi in the coming months.
The week closed on a very good note as the bulls came out to play yet again. The S&P 500 managed to close above 2700 for the first time in what seems to be a long time, finally Friday's economic data was the cherry on top for most bulls when stock futures rose again before the opening bell on "good" jobs numbers. The beat of 300K vs an expected 165K. The previous number was also revised lower, which almost canceled out this months beat. Its interesting to see with the government shut down. Wages held relatively flat, and labor force participation increased. This helped the bulls rocket higher.
Here is a look of last week's stock market on a daily basis (red vertical lines split days).
Stock Market and Sector Overview
Here is a break down of the weekly performance in various stock market sectors (top chart):
Energy stocks up 4.31%
Technology up 3.08%
Financials up 0.91%
Retail down 0.70%
Utilities up 2.15%
Overview of key markets last week (bottom chart):
Crude oil up 3.25%
S&P500 up 1.54%
Silver was up 1.05%
Gold up 1.56%
US dollar down 0.19%
Obscene debt levels
Its no secret that debt is on the rise, its also a dangerous indicator of economic turmoil. Since the 2008 crisis, debt level have not improved, for consumers, corporations and the government alike.
Don't take this TRADEPRO's word for it, take Seth Klarman's, the man who runs a $28 billion hedge fund by the name of Baupost Group.
The US government is notorious for running obscene debt levels, they run a deficit of a trillion dollars of more year after year. While holding $22 trillion in total debt, while corporate debt is at all time highs. This is something that you do not want at all time highs! They've hit $15 trillion in debt while consumers, get this, not inclusive of mortgages are at $4 trillion.. WHAT?
Before we get into our buddy, Seth's story. There is a few things we should mention, he has been returning money to his investors and hes a super secretive individual. Those two facts alone are evidence enough that you should at least hear him out!
Klarman warned his investors in a lengthy letter that debt is reaching outrageous levels, he writes " the seeds of the next major financial crisis, or the one after that may well be found in today's sovereign debt levels."
2018 was a "good" year, until the end that is, assets hit all time highs, everyone was laughing, unemployment hit new lows but the governments deficit hit the $1 trillion mark. With a forecast deficit at $2 trillion, we are staring at a real recession.
Interest rates rose aggressively in 2018, and were expected to do so in 2019 thanks to the Fed's forecast. They have now slowly began to fall into the shadows with the whole, raising rates ordeal. But higher rates means more expensive debt, having already hiked a lot, rates are still relatively low. But what if we get 2-3 hikes in 2019?
The public will become distrusting, because it'll be harder to get repaid for lending money!
There's more, global buying of US treasury's got cut in half in 2018, compared to 2017, meaning borrowing is more expensive.
Ray Dalio had a few things to say on the matter too, believing that the next downturn will be bigger than the Great Depression. "The biggest issue is that there is only so much one can squeeze out of a debt cycle and most countries are approaching those limits".
Global debt is on the rise and it's about time we paid attention!
Is this rally real? Or are markets misguided?
Cries of suspect rallies are flooding the news! We've had the best start to the year since 1987, and we've rallied impressively off the worst December since the Great Depression like it was nothing. This week alone, $15 billion were taken out of equities and $9.4 billion were put into bonds, while equities rallies for 6 weeks straight!
Wait, there's more, outflows form equities combined were $82 billion over the past 3 months. This number is 2% of all assets under management, which comes into consistency with previous bear low events, such as the 08-09 events, China and oil in 2015-106 and the US debt ceiling in 2011-2012.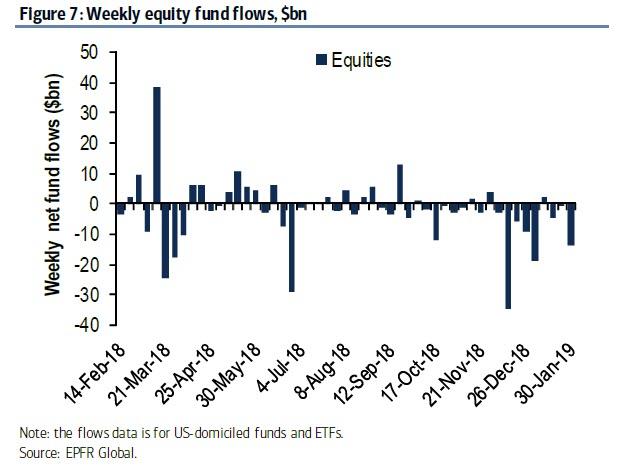 This opens up the dialogue for the PPT! Was the Powell Put activated to scare the shorts into a huge short cover to help markets rally this much, was this whole move higher a massive short squeeze? It makes sense considering that investors have been pulling money out of equities so alarmingly recently.
Adding to this, the bond market is pressing higher, hinting at no more rate hikes this cycle. This is the first indication since the financial crisis in the late 2000's. There have been even talks throughout media of rate cuts! If quantitative easing is being considered so shortly after a barrage of rate hikes, we could be in for it.
Markets and investors believe that the recent dovishness is confirmation of a cease in rate hikes. But other suggest that's the wrong assumption. According to Sonal Desai of Franklin Templeton there are more rate hikes to come. Desai says " I think the Fed will continue to normalize monetary policy because the US economy has already shown it can withstand higher interest rates compared to where we are today".
Its a real battle field out there with many great minds thinking of different outcomes.
Weekly Economic Calendar
The more eventful week is over, the coming week has little high impact news out of the US. We might expect some news in relation to the internal political battle in the US over the wall, along with trade talks and oil production news. Other than that we expect a noisier week from the rest of the world.
Monday, retail sales out of Australia and RBA rate statement, watch the Aussie dollar.
Tuesday, ISM non-manufacturing PMI out of the US and RBA Gov Lowe hits the wire in Australia.
Wednesday, news out of New Zealand, employment change and the unemployment rate. This will impact the Kiwi.
Thursday, BOE inflation report, official bank rate votes and Monetary policy summary. The UK floods the news so watch the pound.
Friday, employment numbers out of Canada.
If you prefer to trade more passively, checkout our newsletter, trade ideas and live analysis in the Swing Trader package here >
---
The information contained in this post is solely for educational purposes, and does not constitute investment advice. The risk of trading in securities markets can be substantial. You should carefully consider if engaging in such activity is suitable to your own financial situation. TRADEPRO Academy is not responsible for any liabilities arising as a result of your market involvement or individual trade activities.