US indices start the weak on a lower note as bank earnings out of America missed expectations mainly Citi and Goldman. The moves throughout the week were stagnant in the S&P 500 as the 2019 high of 2919.90 was hit and that resistance held out as equities move sideways. The S&P 500 ended flat for the week while Nasdaq futures hit all time highs at 7733.50 midweek. Crude oil began the week lower as well as many energy stocks took a hit. The sideways range on crude oil continued this week as it formed last week. The support level on crude oil is at $63.00-$63.10 and the top end of the range at $64.50.
Canada saw further weakness in the Canadian dollar on Monday as the BOC released a weaker business outlook survey as the Greenback continued to strengthen throughout the week spelling out a lot of trouble for gold. Gold managed to print a multi-month low as stocks, USD and rates continued higher, the commodity didn't where to turn but downward. 
Early this week we saw a continuous climb of interest rates as stock markets continued higher. The 10 and 30-year T-yields hit new month highs and the curve steepened. The Dow experienced some single stock influence yet again, this time not from Boeing but from UNH which moved the Industrial Average higher into Tuesday's open. That bull did not last long as health care stocks dropped and the Dow took note and followed suit. Earnings continued throughout the week and Blackrock's beat of expectations helped the financial sector make gains.
Midweek Chinese data came out and pressed equities higher off the open. Reports of continued stimulus came out of China but that optimism was not enough to keep US equities afloat. There was more uncertainty surrounding health care about futures political actions which moved stocks lower putting pressure on US equity markets. The earnings season was volatile as there are still more big names to report. Transports, such as CSX and United Continental beat helping the Dow move higher.
The weakness midweek was bought back up on the shortened weeks close to end the week flat. This was all throughout the release of the Mueller report which brought little to no volatility to the market. Global data was weak on Thursday as PMI data out of Europe came out weak. Weekly initial jobless claims out of the US hit a cycle low, yet again. The week saw a slight weakness in strong rates as the Greenback continued to strengthen, hitting gold even lower.
Here is a look of last week's stock market on a daily basis (red vertical lines split days).
Stock Market and Sector Overview
Here is a break down of the weekly performance in various stock market sectors (top chart):
Energy stocks down 0.33%
Technology up 2.03%
Financials up 2.63%
Retail up 0.02%
Utilities down 1.12%
Overview of key markets last week (bottom chart):
Crude oil down 0.65%
S&P500 up 0.52%
Silver was down 1,55%
Gold down 2.63%
US dollar up 0.56%
Global Economic data worrisome, Eurozone data worse!
We've talked about the slowdown of global economic data time and time again but in recent reports, we're looking at data that rivals that of 2016 when markets spilled. Granted the spill was nearly 15% compared to the 20% we experienced in the S&P 500 late in 2018. 2016 was a time of economic data collapse, the global trade was near 2008/09 levels peaking under $110 billion vs the nearly $105 billion of 2009. The Greenback was moving up aggressively and emerging markets were in turmoil. The weaker economic data is hurting markets and is causing retaliatory measures by global central banks. That's right stimulus and potential rate cuts. Cut rates from what? They're already so low.
In 2016 central banks dumped more money into the markets which were the catalyst of the three-year bull run up to all-time highs, which we could see yet again in the coming month or so. When we saw a drastic dump in 2018, the "Powell Put" was deployed and an easing monetary strategy was deployed. Although they have not yet cut rates they sure stopped raising them.
The drop that was shaping up in 2016 was erased in a single night in February… weird. After all the drowning economic data. Buy orders came in and stimulus came in, central banks pumped $2.5 trillion back into the market by buying assets halfway through 2016, continuously moving money back in until the summer of 2018. It was the largest stimulus ever. Financial stimulus like this widens the gap between the top of the world and everyone else. Effectively hurting the middle class and lower. When money is pushed back into markets, who do you think owns the most shares? The top 1%-0.001% or the middle class? A large majority of assets held are by wealthier people and an increase in stocks price benefits them. That's what central bank asset-buying does!
Moving forward just a bit, 2018 towards the end of the year and the turn of Q4. The S&P 500 just printed a new all-time high in September and things were looking amazing, the bull market was on a rampage. Then the drop happened, down through Christmas Eve, nearly touching the 2330 level on the S&P 500 from 2942. Just like that, just as we saw in 2016, all it took was one night for the V-bottom to appear and by 2019 we were back. Just a few months later and the S&P 500 broke 2900, just 25 points shy of all-time highs. Did economic data strengthen at this V-bottom, or maybe corporate gains/earnings were doing well? Guess again. The central bank flooded more money into the market, just $1 trillion this time. There has been speculation that with the cease of rate hikes, there may be rate cuts on the horizon to add to this already bull market. Should the central banks continue to flood more money into the market, we can expect to see what we saw in 2016, a wealthier top percent as they continue to hold the majority of assets. Leaving the middle class further behind, along with a weaker GDP and increase in global debt. The debt is one of the scariest things these days, we'll talk about it shortly.
The image below is the V-bottom in 2016 (top picture) vs the V-bottom in 2018 (bottom picture). The move in 2018 was more drastic, in terms of the drop and rally, volatility is coming in and the Fed can take some of the credit. "Data dependent Fed", doesn't seem so since global economic data is slumping.
Should the central banks take a different approach and attempt to flood more money into the market with little reaction, we could expect to see the S&P 500 into all-time highs on weak institutional buying before an aggressive crash occurs. If macro-economic data continues to show signs of weakness throughout the whole move higher as well spells trouble for all. At which the central bank will only be able to cut rates by so much from where they currently stand that it may be too late to salvage the market from dropping 30-40%. This seems like a doomsday scenario, and its the worst case of course. Realistically, markets are the gauge for the US economic health and president Trump has gone out to tweet that the Fed's job is to keep markets high. So it is safe to say that the Fed would do whatever it takes to save the market.
Economic numbers in the US are not the central focus of worry. Retail sales are growing, jobs numbers are good and manufacturing data is strong. Not to mention the Greenback is still strong and has not adversely affected emerging market economies… for the most part. Even China, the economic global powerhouse, whose data has been slumping has shown signs of recovery as the manufacturing index has been doing better, do not be completely fooled by this number, this new debt giant is still an area of worry.
Japan and Europe have been areas of major concern lately. Japan has been in a 3 decade long period of mega low-interest rates after expansionary monetary policy and complete stagnation. Accumulation of debt is not news out of Japan after the 30 odd years of the same thing.
Europe however is the new front runner of worry, the risk grows in economic, and political areas while they've taken on a new agenda in terms of monetary policy. Eurozone data has been poor for some time now, slowly economic data out of a main economic powerhouse, Germany. However, in comparison so Germany, other European countries are in much worse standing, fragile economies all over Europe that may not survive the next economic trough, some have even taken stimulus measures like France who has announced tax deductions. Keep in mind that Europe has 0% rates and 1.8 trillion Euros in excessive liquidity which still requires for stimulus, meaning that economic conditions may be worse than data suggests.
US National Debt woes
A website by the name "the truth in accounting", click here for their page, has recently published a very interesting piece on the actual household debt of the average US taxpayer. On their homepage they have a national debt counter, which compares what the US government tells you the debt is versus what it actually is, not surprisingly, in actuality national debt is 4.8 or so times more than the government figure. Leaving the average taxpayers share at $707,000 of debt. This means that the Federal Government's financial condition has worsened by $4.5 trillion just last year in 2018.
The national debt burden of roughly $106 trillion is 4.8 times more than what the government announced ($22 trillion) This number comes from the different between the the federal governments assets of $3.84 trillion and their unfunded obligations and total debt of roughly $109.95 trillion.
The truth in accounting outlines all the grime numbers that have contributed to the national debt, all outlined in the following chart, all rights to The truth in accounting.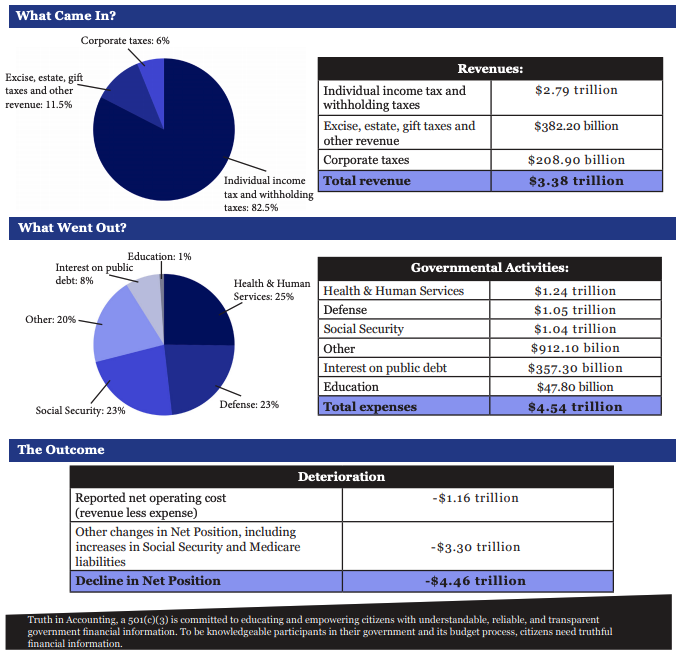 The unfunded debt taken on by the government has increased by nearly $4.5 trillion last year, which was nearly 4 fold faster than the net operating costs. The interest accumulation on the debt is by far the fastest growing expense as interest on trillions of dollars really adds up, the only solution is an immense tax increase, which just doesn't seem plausible. It's not just government debt that's growing, individual tax payer debt is of large concern as well. $1.5 trillion accounts for student debt which is the fastest growing assets on the balance sheet. What may be the worst news out of all of this is that the public has not reacted to this because its not covered in media channels.
The increase of debt is a worrisome national economic indicator which very well be the one that puts this recession over the edge and turns markets upside down, should nothing be done to address this.
Weekly Economic Calendar
Slower week in terms of news this coming week. Limited high impact news out of the US this week of the back of a shortened week.
Monday, no high impact data.
Tuesday, CPI data out of Australia in the evening.
Wednesday, BOC data out of Canada as the rate statement and overnight rate come out, watch the CAD and CAD futures during this morning report. BOJ outlook report comes out and their monetary policy statement which could impact global economic data.
Thursday, BOJ press conference continues, Core durable goods out of the US premarket.
Friday, Swiss National Bank Chairman Jordan goes on the wire in the morning and advanced GDP numbers come out of the US.

If you prefer to trade more passively, checkout our newsletter, trade ideas and live analysis in the Swing Trader package here >
---
The information contained in this post is solely for educational purposes, and does not constitute investment advice. The risk of trading in securities markets can be substantial. You should carefully consider if engaging in such activity is suitable to your own financial situation. TRADEPRO Academy is not responsible for any liabilities arising as a result of your market involvement or individual trade activities.